December 03, 2005
Big Day In Rock & Roll History
Today is the 37th anniversary of
Elvis Presley's 1968 Comeback Special
, a legendary event in music history.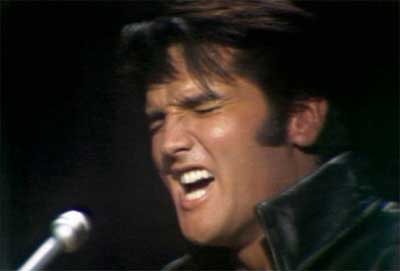 From NME.com:
By the mid-'60s, The King was washed-up, so his detractors claimed. The world was being wowed by the experimentalism of The Beatles, the Stones' dirty rock'n'roll, the string-drenched sonic onslaught of Phil Spector. Presley was a distant memory, an anachronism, remembered mainly for his decline from hip-swivelling slick-haired rock Adonis to slightly campy balladeer sleepwalking through a string of bad movies. Then, in 1968, after years absent from live performance, Elvis decided to put on a show in Las Vegas, go back to his musical roots, perform some rock'n'roll standards with a stripped-down band, recapture the raw energy that characterized his '50s heyday.

It should've been a disaster - like, who was this old nark with his bad hair and blues standards? But no! He gathered together a coterie of brilliant musicians, including ace guitarist James Burton, slung on a leather jacket and a six-string, and got up onstage and blew everyone away.

He kicked off with 'Blue Suede Shoes', went on to do 'The Wonder Of You' which stayed at Number One in the UK for six weeks, joked with the band, improvised, messed around, looked cool, and won millions of fans back. From then on, until his death in '77, he remained The King, and his crown was never threatened again.
Posted by: annika at 01:01 PM | Comments (14) | Add Comment
Post contains 245 words, total size 2 kb.
December 02, 2005
Apprentice Blogging
My money is on Randall. He's a team player, who knows when to lead, and when to play the supporting role. His past mistakes have not stuck to him. The chick, on the other hand, will always be remembered for her ill-advised loyalty to that loser friend of hers in one of the earlier episodes. She's good, but can Trump expect that she'll never make another judgment call like that?
It seems this season can't end soon enough for Trump. He axed two last night. Anybody know if the show's been picked up for another season? i think Trump's getting bored with it, like the show is one of his ex-wives.
Posted by: annika at 08:10 AM | Comments (1) | Add Comment
Post contains 115 words, total size 1 kb.
21kb generated in CPU 0.04, elapsed 0.1178 seconds.
61 queries taking 0.0945 seconds, 159 records returned.
Powered by Minx 1.1.6c-pink.