May 28, 2006
Remembering Vietnam
Country musicians Big & Rich pay tribute to the sacrifices of our Vietnam heroes in the song and video, "8th of November." It's very touching and well done.
See it at Tammy's blog.
Posted by: annika at 09:12 AM | No Comments | Add Comment
Post contains 37 words, total size 1 kb.
May 26, 2006
Badass Cars
I know you all really liked my Dukes of Hazzard
banner
for the car. Well, if you're a
fan of the R/T, you should go here.
Michele (yes, that Michele) has a post about it with some nice pictures.
By the way, I actually saw a sweet General Lee replica driving around town the other day. I wish I was quick enough with the camera phone.
Also (and this news doesn't have anything to do with Chargers, but it is related to the 70's car theme), one of the great car chase scenes ever filmed is now on DVD. The obscure 1973 film The Seven-Ups, starring Roy Scheider and Tony Lo Bianco, features a really long chase that takes place in and outside New York City. My brother, who's an expert on these things, says this chase scene is better than Bullitt's, and I can't disagree.
Posted by: annika at 07:46 AM | Comments (13) | Add Comment
Post contains 150 words, total size 1 kb.
May 25, 2006
Taylor's AI Audition
As long as we're looking at YouTube videos, take a look at Taylor Hicks's
American Idol
audition.
I think the coolest thing about Taylor's audition is when Simon asked him why he was there. He does not say, "Because I wanna be the next American Idol," which 99% of the people said.
Simon: Why you here?

Taylor: I want my voice heard.

Taylor: Why?

Taylor: Cuz I feel like I got one.
It's so simple and direct an answer, I can almost imagine the young Elvis Presley saying something like it to Sam Phillips back in the day.
I also love the fact that Taylor was so underestimated during his audition. Paula and Randy liked him, but you know they never imagined he might win. Not after that audition, which really wasn't too good.
Go Taylor! I hope he gets some good songs to sing because he could really become a star if the machine lets him.
Posted by: annika at 09:45 PM | Comments (3) | Add Comment
Post contains 161 words, total size 1 kb.
May 23, 2006
AI And Badonkadonk
American Idol
is the best family show on TV. I'm tired of hearing some folks put it down, because there's a reason it's the number one show. It brings families together twice a week for good old fashioned entertainment that's non-political, non-violent, and safe for viewers of all ages. It's the type of entertainment that hasn't been around since the Muppets got cancelled. Sure it's least common denominator stuff, but I think that's a good thing. We need that sometimes, especially nowadays.
I hope y'all switched over to CBS after American Idol. If you had, (on the West Coast) you would have just caught Carrie Underwood trying to finish her performance of "Jesus Take The Wheel," and getting all choked up. Then about a minute later, she accepted the Academy of Country Music award for Record of the Year. And to think, only a year ago she was pretty much a nobody. It's a nice song, and I'm happy for her. Carrie also won Top New Vocalist.
[By the way, I love any industry awards show where the winners thank Jesus Christ our Lord and Savior. It's a little unorthodox, but hey, entertainers are often non-conformists.]
Next, I hope you didn't miss hunky Trace Adkins trying to keep a straight face while singing "Honky Tonk Badonkadonk" inside a flock of nearly naked showgirls. That was some feat of concentration, although he kept turning around to check out the girls. And CBS kept cutting away from the action on the stage, which got pretty racy.
I also enjoyed watching Gretchen Wilson sing my new favorite song, "Politically Uncorrect," which features the lyrics:
I'm for the preachers who stay on their knees
And I'm for the sinner who finally believes
And I'm for the farmer with dirt on his hands
And the soldiers who fight for this land
And I'm for the Bible
And I'm for the flag
And I'm for the working man
. . .
I'm just one of many who can't get no respect
Politically Uncorrect
Back to
AI
. I wouldn't be going out on a limb if I predicted that Taylor will win it all. he gave three solid performances, but really impressed me with the last song because the lyrics were so awful. While Katherine tried to do justice to her lame original song, Taylor did his best to make his song fit
him
. I also think Taylor deserves to win because he just seems like such a nice guy.
Posted by: annika at 09:43 PM | Comments (2) | Add Comment
Post contains 388 words, total size 3 kb.
May 22, 2006
Predictions For Tonight's 24 Finale
Jack and Audrey will try to have sex. Audrey will attempt to delay her orgasm until Jack shouts "NOW!" They both finally give up in frustration when they realize Jack is unable to "upload" anything without Chloe's help. Jack will then confront President Logan, shoot him in the leg, and go into hiding. Rocket Romano will then perform emergency first aid, but die in a freak helicopter mishap while helping evacuate the president on Marine One. A guilt-ridden Henderson will return to CTU, revive Tony, and with the help of Barbaro's vet, create a superhuman CTU agent by attaching Tony's head to a robotic body. Finally, a plane will crash somewhere.
Posted by: annika at 07:11 PM | Comments (7) | Add Comment
Post contains 121 words, total size 1 kb.
May 14, 2006
Bobby Darin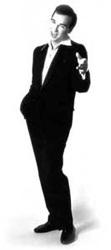 Today is Bobby Darin's birthday. He was born in 1936 as Walden Robert Cassotto. One of the greatest popular music records of all time is Darin's second LP,
That's All
. My dad had the original vinyl record. I say "had" because I stole it, and now I have it. Of course I can't play it, because I don't have a working record player, but so what. It's a collector's item.
The otherwise lackluster Kevin Spacey movie about Darin's life did a good job of showing how Darin changed from a bobby sox rocker to a Sinatra-esque swinger with the release of That's All. Every song is a gem, especially the most famous single to come off of that album, "Mack The Knife."
Dick Clark begged Darin not to record "Mack," but thankfully he went and did it anyways. Now, its become a jazz standard that even twenty-somethings like myself know by heart. What other song written by a communist (Bertolt Brecht) can you say that about?
On the back of That's All, they reprinted a telegram from Sammy Davis, Jr., which I love: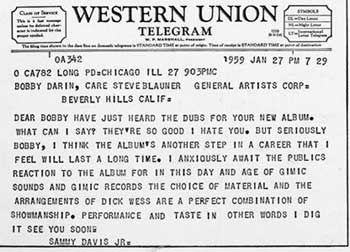 Really, when you talk about guys who could swing, the name Darin belongs right up there next to Frank and Sammy.
Posted by: annika at 06:18 AM | Comments (2) | Add Comment
Post contains 208 words, total size 1 kb.
May 09, 2006
AI Blogging
If I have any influence at all with this blog, let me use it now.
Vote for Elliott Yao Ming tonight. He totally annihilated the competition. And the competition was exceptional. But the dude with the bad teeth fukken' rocked!
Vote for Elliott!
Posted by: annika at 08:52 PM | Comments (3) | Add Comment
Post contains 47 words, total size 1 kb.
24 Blogging
Perimeters on this show are about as successful as they are in real life. Just ask OBL, Musab al-Zarqawi and John Allen Muhammad.
Posted by: annika at 11:36 AM | Comments (10) | Add Comment
Post contains 27 words, total size 1 kb.
May 04, 2006
The First Rule Of Lost
Hook up with a guy . . . get shot and die.
Update: Nice try Scof. But your theory, "DUI = bad career move," while it has some supporters, fails to explain Shannon's death earlier this season, right after she hooked up with Sayid. Thus, my theory is superior.
Posted by: annika at 05:37 PM | Comments (6) | Add Comment
Post contains 59 words, total size 1 kb.
47kb generated in CPU 0.08, elapsed 0.1899 seconds.
67 queries taking 0.136 seconds, 204 records returned.
Powered by Minx 1.1.6c-pink.