August 22, 2005
Reflections On A '95 St. Supery Cab
i'm no wine expert, but i'll give it a try. i emailed
Pursuit
, who is the unofficial sommelier of annika's journal, and asked him if it was time to drink that $12 bottle of '95
St. Supery
Cabernet i'd been holding onto. He responded thusly:
I'd suggest that you drink it pretty soon.

I hope you've kept it on its side
i had.
and in a reasonably cool place.
No place is
cooler
than wherever i am.
While some reds can be great beyond ten years, my guess is the St Supery is probably in its sweet spot now.
So i tried it with beef this weekend and, while it's not Silver Oak, it was good.
(If you're ever in Napa, i recommend the St. Supery winery tour. Very informative.)
As for the '95, i liked it. Almost rust in color, plum and berry predominates, and there was no trace of tannin. A hint of oak [i have no idea what i'm talking about, btw] and big but not overly complex. All in all, a good $12 investment.
Tasted good tooo.
Update: Although i have no idea what a tannin is, this pro seemed to agree with me that the '95 didn't have any.
Posted by: annika at 07:09 PM | Comments (7) | Add Comment
Post contains 203 words, total size 1 kb.
August 21, 2005
August 12, 2005
Jazz CD Recommendation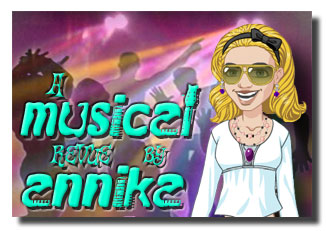 i don't know if any of you take my advice on music, but here's one anyway. Dizzy Gillespie's 1959 recording, Have Trumpet, Will Excite.
i love Dizzy. i'm going to name my son after him. "Not "Dizzy," but "John Birks." How does "John Birks Rodriguez" sound?
The personnel on this record are not well known to me, but they sound great together. i'm especially impressed by the piano player Junior Mance. Check out the first tune for some great piano work.
The second tune, "My Man," is fun with its long moody intro, which leads to a bouncy piece that references two other unlikely classics "O Solo Mio" and "Moten Swing." Dizzy's great sense of humor is on display in this one.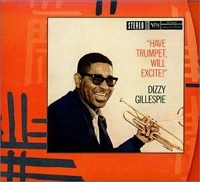 "Moonglow" is a standard, and here it features a long swinging flute solo by Les Spann. On "St. Louis Blues," Spann switches to jazz guitar for another uptempo solo.
"Woody 'n' You" is a Gillespie written tune that always swings no matter who does it, even more so when the author is blowing. High note fans, like myself, should be happy with the man's solo.
"Wrap Your Troubles In Dreams" is another standard, with Dizzy blowing a muted trumpet up and down the scales. It's also the longest song at 7:13.
The next song is "There Is No Greater Love." The title sounds like something Coltrane might have written during his religious years, so i checked the liner notes. But no, it was written by Isham Jones, an old bandleader from the 20's and 30's, who should win the award for "white musician with the most black sounding name." Dizzy's version is a romantic tempo song that's probably the best thing on this CD.
The rest of the CD is three more alternate takes of "No Greater Love" and two alternate takes of "I Found A Million Dollar Baby In A Five And Ten Cent Store." i don't know why Verve does this. It's not like you're getting more music, since the alternate takes don't sound any different to my ear.
But if you're into jazz at all, take my advice, this is a pretty decent CD.
Posted by: annika at 05:11 PM | Comments (3) | Add Comment
Post contains 365 words, total size 3 kb.
August 09, 2005
Quick And Dirty Tom Yam Gong
Fans of Thai cuisine know what i'm talking about. If you get the urge for some spicy Thai shrimp soup, but don't want to leave the house, here's what you do. And it only costs pennies.
You need the following items:
Top Ramen Picante Shrimp flavor
can 'o' shrimp
1 teaspoon fresh milled black pepper
half a can of generic brand veg-all
half a can 'o' mushrooms
Soy Vay Island Teriyaki sauce, maybe 3 tablespoons or more
dash of chilli powder, Durkee seasoning or Mrs. Dash
lime juice if you got it, but who has lime juice?
Alright, don't be tellin' me this is not real Tom Yam Gong. i know that. The real shit has lemon grass and big shrimp and those really really hot peppers and is served over a little flame to keep it simmering. i love it when it's so hot it makes you cough. My recipe is fake Tom Yam Gong with noodles, but it can hold you over when you're real poor or real lazy.
Don't skimp on the Ramen flavor, that's essential. It must be Nissin's Picante Shrimp. Also, i wouldn't substitute any other brand of Teriyaki sauce, but that's me. i love Soy Vay's stuff and use it all the time in lots of recipes.
i favor Durkee seasoning and Mrs. Dash instead of Lawry's or other season salts because there's less sodium. Mrs. Dash is especially good on any Asian style soup, i think.
So anyways, the construction of this quick and dirty recipe is simple. Boil 2 cups water, add the noodles, and cook uncovered for three minutes. When that's done, turn off the heat and add everything else. Let it sit covered for a few minutes to heat everything through. Or, you can simmer a little bit longer, but that tends to overcook the noodles.
Enjoy with a beer.
Posted by: annika at 07:44 PM | Comments (3) | Add Comment
Post contains 322 words, total size 2 kb.
August 04, 2005
Cornet Chop Suey
Today is Louis Armstrong's birthday.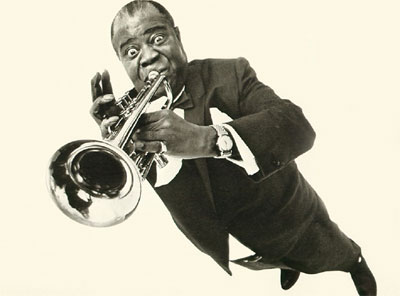 Don't forget to listen to a Louis Armstrong song today.
Posted by: annika at 08:12 AM | Comments (5) | Add Comment
Post contains 21 words, total size 1 kb.
29kb generated in CPU 0.11, elapsed 0.202 seconds.
64 queries taking 0.1559 seconds, 169 records returned.
Powered by Minx 1.1.6c-pink.