September 29, 2006
September 14, 2006
Dean Martin Appreciation Day
I had no idea it was DMAD. In fact, I'd never heard of DMAD until today. It's not his birthday (that's June 7). Anyways, I'm up for it. Go and celebrate
at Sheila's
. Nobody blogs classic Hollywood better than Sheila. There are some great pictures too. Dean cooking with the Duke. Dean, Mia and Sharon Tate. Dean and the boss, naturally. Dean stepping onstage with Judy (I think it's Judy). And of course, Dean and Jerry.
Update: Youtube is amazing. Look what I found.
That scene of Dean the father kissing Dean Paul is sad, isn't it? Captain Dean Paul Martin died in 1987 when his Air National Guard F-4 Phantom crashed into Mount San Gorgonio.
Dean Paul "Dino" Martin, 35, son of entertainer Dean Martin was killed when the Phantom jet he was piloting crashed into the San Gabriel Mountains. Permission was given by March Air Force Base ATC to perform a "maximum climb" takeoff. The aircraft was seen disappearing into a scattered cloud ceiling at 4,700 feet. Radar contact was lost 9 minutes into the flight. The crash site was found on the 3rd day of searching in the San Gabriel Mountains. An investigation revealed the aircraft flew, inverted, into a solid wall of granite between two mountain peaks at an estimated speed of 560 mph. The aircraft was literally pulverized into the granite. The "maximum climb" takeoff, g forces assoctiated with this type of flight and the dense cloud cover negatively affected the pilots ability to know his position and aircraft attitude.
The death hit Dean very hard, and he apparently was never the same afterwards.
Posted by: annika at 09:38 AM | Comments (10) | Add Comment
Post contains 275 words, total size 2 kb.
September 08, 2006
Happy 40th Star Trek!
[Just havin' a little fun at Shatner's expense. He knows I love him.]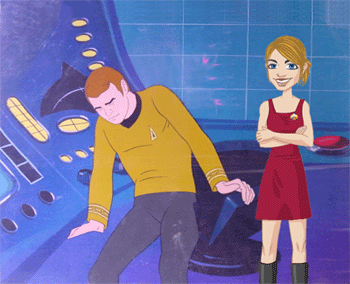 Today is the 40th anniversary of Star Trek's first broadcast. From the official website:
On the evening of the 8th of September, following Daniel Boone, this new NBC show premiered with an episode called "The Man Trap." The angle of the story was different, to say the least: It was a love story with a sci-fi twist, borne of a relationship from the doctor's past, featuring a monster that, in the end, just wanted to live. It was moving, tragic and anything but cheesy. The viewers — at least the ones who were paying attention — were hooked.

This show proved it had something different. It had a unique life that would go on to exist beyond expectation. It stood outside of time, as it tapped into universal themes and epic struggles, and put the cosmos on notice. Things have changed! Primetime on NBC eventually proved that this was no place for something so big, so broad in scope. This three-season show, after all, would go on to spawn four live-action spin-offs, an animated series, ten movies and counting, plus a licensing empire that, to this day, embraces books, videos, exhibits and assorted merchandise.

Like other cultural, artistic or philosophical phemonena (think Mozart, Van Gogh or Jesus) this new show was largely unappreciated in its own time and only later would be seen as what it is today, a world-wide, cultural juggernaut. Thanks to a form of TV recycling called syndication, the show became a hit to generations of young, impressionable kids, including many future scientists, astronauts and actors. What's ironic is that by today's ratings standards, it would have been a hit in its original run. But back then, with only three major networks, it didn't quite pull its weight. It was only with the need to syndicate TV programs, to get more than one bite out of the entertainment cherry, did this show become what it was all along. It just needed a form of resurrection; the people who had heard of it from their parents, teachers, friends or older siblings tuned in after school, prior to the dinner hour. It turned out to be the perfect time to hit this new, fresh audience and the show became lodged in the collective minds of a nation.
Indeed it has.
Happy birthday Star Trek. And thanks Gene, wherever you are.
Update: Check out the Star Trek 40th Anniversary Carnival at A Mama's Rant. Submit your own post, if you got one.
Posted by: annika at 01:24 AM | Comments (4) | Add Comment
Post contains 418 words, total size 3 kb.
September 06, 2006
My Not So Subtle Attempt To Influence The Sidebar Poll
Just my opinion, but I think the answer to "Who's the World's Greatest Australian?" goes without saying.
Exhibit A in the extended entry. more...
Posted by: annika at 09:47 PM | Comments (2) | Add Comment
Post contains 59 words, total size 1 kb.
42kb generated in CPU 0.06, elapsed 0.1661 seconds.
64 queries taking 0.1239 seconds, 187 records returned.
Powered by Minx 1.1.6c-pink.