December 30, 2006
Be Afraid, Be Very Afraid
It is a semi well known fact that the number of Elvis impersonators in the world has increased exponentially since the singer's death in 1977. But how many of you know just how pronounced and dangerous the trend is?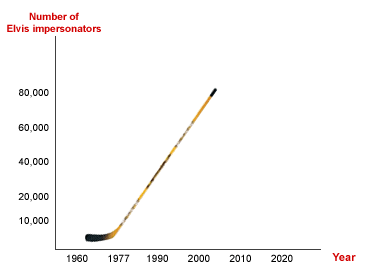 According to the San Francisco Chronicle
When Elvis Presley died in 1977, there were an estimated 37 Elvis impersonators in the world. By 1993, there were 48,000 Elvis impersonators, an exponential increase. Extrapolating from this, by 2010 there will be 2.5 billion Elvis impersonators. The population of the world will be 7.5 billion by 2010. Every 3rd person will be an Elvis impersonator by 2010.
That's one third of the Earth's total population, or 22,500,000,000 people. I don't know about you, but I'm not sure
I
want to be an Elvis impersonator.
To be sure, not all of the finest workings of global population science is yet fully understood to the finest grain. However, all of the basics are absolutely clear. The Elvis impersonator crisis is real, humans are causing the problem, and the solutions are available to us now. It is not too late to avoid the worst. All that is needed is the political will to act.
h/t Some Words To Not.
Posted by: annika at 11:54 AM | Comments (6) | Add Comment
Post contains 212 words, total size 1 kb.
December 21, 2006
Busy Girl
I checked out the
Miss Nevada photos
, and all I can say is she was working
overtime
. I can't believe she managed to do all that stuff in one night. She must have been exhausted afterwards. Listen, I had some wild times when I was her age, but
dang
gurl. Is there anyone in that room she didn't get funky on?
Posted by: annika at 07:22 PM | Comments (9) | Add Comment
Post contains 65 words, total size 1 kb.
December 02, 2006
Big Hair Video of the Day
Victor here, still wired from watching my beloved Caps
roll over
one of the top two teams in hockey. Heckuva game and I'm not gonna be able to sleep for a couple of hours. I mean, it's 1:15 in the AM and I was going to go to work in about five hours, but not no more!
Instead, I'll clutter up annika's blog with a big hair video. I give you...The Flirts!
annika will soon begin to regret giving me posting rights.
Posted by: Victor at 11:15 PM | Comments (5) | Add Comment
Post contains 94 words, total size 1 kb.
December 01, 2006
Fiji Coup Update
Fiji's military commander, Frank Bananarama, has called on the Prime Minister and other members of the country's government to come out of hiding.
Fiji's ousted Prime Minister charted a plane yesterday and travelled with his family to an undisclosed location on the island of Venus Levu, when it appeared a coup was about to take place.
Bananarama said ministers will not be hurt in any way, during what he called a clean-up of the government by the military. He cautioned any who might oppose him that the government was now fully under his control. "We got it, yeah baby we got it," he added.
Posted by: annika at 08:37 PM | Comments (8) | Add Comment
Post contains 110 words, total size 1 kb.
27kb generated in CPU 0.04, elapsed 0.1158 seconds.
63 queries taking 0.0895 seconds, 169 records returned.
Powered by Minx 1.1.6c-pink.