December 29, 2006
Kraken Caught Off Chichi Jima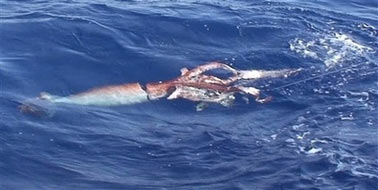 Two years ago someone shot film of a giant squid swimming in the deep. Now someone's caught one. It's believed to be the first time anyone has ever done such a thing, ever.
Giant squid, formally called Architeuthis, are the world's largest invertebrates. Because they live in the depths of the ocean, they have long been wrapped in mystery and embellished in the folklore of sea monsters, appearing in ancient Greek myths or attacking the submarine in Jules Verne's "20,000 Leagues Under the Sea."

The captured squid was caught using a smaller type of squid as bait, and was pulled into a research vessel "after putting up quite a fight," Kubodera said.

"It took two people to pull it in, and they lost it once, which might have caused the injuries that killed it," he said.

The squid, a female, was not fully grown and was relatively small by giant squid standards. The longest one on record is 60 feet, he said.
More giant squid blogging from the depths of the annika's journal archives,
here
.
Posted by: annika at 01:02 AM | Comments (2) | Add Comment
Post contains 183 words, total size 1 kb.
December 11, 2006
Hope On The Global Warming Front
As I'm sure you know, the scientists are predicting that global warming will destroy the world in a couple of years. Because even a change in global temperature as small as two degrees could be catastrophic, you know. But now,
the scientists are also predicting
that a small scale nuclear exchange involving countries like North Korea or Iran could help to reduce global temperatures by about two degrees. Just what the doctor ordered!
The new studies looked at the consequences if two nations dropped 50 Hiroshima-size bombs on each other's big cities. By analyzing population data and distance from blast, scientists predicted a regional nuclear war would kill 3 million people in Israel and up to 17 million in China. The U.S. would see 4 million blast deaths.

But the researchers say black soot from the fires would linger in the atmosphere, blocking the sun's rays and causing average global surface temperatures to drop about 2 degrees Fahrenheit in the first three years. Although the planet would see a gradual warming within a decade, it would still be colder than it was before the war, the scientists said.
No wonder TIME Magazine has been so soft on Ahmadi-Nejad. He and Al Gore are the only guys out there with a plan to save the planet!
P.S. The AP article I linked is notable for another very surprising reason. It is the first time I have ever seen an article by a major anti-American media source that admits "Iran is also pursuing the development of nuclear weapons," without including the standard preface: "the White House claims that..." Someone must have been asleep at the editor's desk for that to slip by.
h/t Possumblog
Posted by: annika at 10:14 PM | Comments (17) | Add Comment
Post contains 292 words, total size 2 kb.
23kb generated in CPU 0.15, elapsed 0.4116 seconds.
61 queries taking 0.3412 seconds, 149 records returned.
Powered by Minx 1.1.6c-pink.