February 08, 2007
February 05, 2007
Did You Hear About The Crazy Astronaut?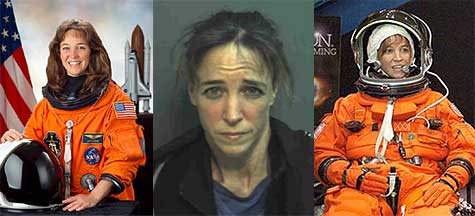 This is some pretty wild shit.
An astronaut drove 900 miles and donned a disguise to confront a woman she believed was her rival for the affections of a space shuttle pilot, police said. She was arrested Monday and charged with attempted kidnapping and other counts.

U.S. Navy Capt. Lisa Nowak, 43, who flew last July on a shuttle mission to the international space station, was also charged with attempted vehicle burglary with battery, destruction of evidence and battery. She was denied bail.

. . .

Police said Nowak drove from her home in Houston to the Orlando International Airport to confront Colleen Shipman.

Nowak believed Shipman was romantically involved with Navy Cmdr. William Oefelein, a pilot during space shuttle Discovery's trip to the space station last December, police said.

Nowak told police that her relationship with Oefelein was "more than a working relationship but less than a romantic relationship," according to an arrest affidavit. Police officers recovered a love letter to Oefelein in her car.

. . .

When she found out that Shipman was flying to Orlando from Houston, Nowak decided to confront her, according to the arrest affidavit. Nowak raced from Houston to Orlando wearing diapers so she wouldn't have to stop to urinate, authorities said.

Astronauts wear diapers during launch and re-entry.

Dressed in a wig and a trench coat, Nowak boarded an airport bus that Shipman took to her car in an airport parking lot. Shipman told police she noticed someone following her, hurried inside the car and locked the doors, according to the arrest affidavit.

Nowak rapped on the window, tried to open the car door and asked for a ride. Shipman refused but rolled down the car window a few inches when Nowak started crying. Nowak then sprayed a chemical into Shipman's car, the affidavit said.

Shipman drove to the parking lot booth, and the police were called.

During a check of the parking lot, an officer followed Nowak and watched her throw away a bag containing the wig and BB gun. They also found a steel mallet, a 4-inch folding knife, rubber tubing, $600 and garbage bags inside a bag Nowak was carrying when she was arrested, authorities said.

Inside Nowak's vehicle, which was parked at a nearby motel, authorities uncovered a pepper spray package, an unused BB-gun cartridge, latex gloves and e-mails between Shipman and Oefelein. They also found a letter "that indicated how much Mrs. Nowak loved Mr. Oefelein," an opened package for a buck knife, Shipman's home address and hand written directions to the address, the arrest affidavit said.

Police said Nowak told them that she only wanted to scare Shipman into talking to her about her relationship with Oefelein and didn't want to harm her physically.

"If you were just going to talk to someone, I don't know that you would need a wig, a trench coat, an air cartridge BB gun and pepper spray," said Sgt. Barbara Jones, a spokeswoman for the Orlando Police Department. "It's just really a very sad case. ... Now she ends up finding herself on the other side of the law with some very serious charges."

If convicted of attempted kidnapping, Nowak could face a maximum of life in prison.
Her first mistake was going to Nick Nolte's stylist before the arrest.
Posted by: annika at 10:11 PM | Comments (17) | Add Comment
Post contains 562 words, total size 4 kb.
23kb generated in CPU 0.03, elapsed 0.1627 seconds.
61 queries taking 0.1377 seconds, 151 records returned.
Powered by Minx 1.1.6c-pink.