October 23, 2008
It's Hammer And Sickle Time In America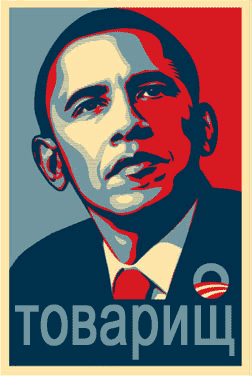 I'm on the point of winning for them the greatest foothold they will ever have in this country.

—Eleanor Iselin

Don't kid yourself. Did you ever wonder why he's so reluctant to detail exactly what he means by "change." It's because he means CHANGE in every sense of the word.
November 5th everything will change. And we have only ourselves to blame. We Republicans especially, for not making our case, even now. Because this election is about LIBERTY and when its long over we will miss that seven letter word that has meant so much to us for 232 years.
I intend to teach my children what LIBERTY was like when I was growing up. And I hope that someday they will know it again, as I did. Because the damage that Obama and his minions will do to this country will take a generation to undo, if we have the guts.
Posted by: annika at 08:47 PM | Comments (17) | Add Comment
Post contains 166 words, total size 1 kb.
26kb generated in CPU 0.05, elapsed 0.1844 seconds.
61 queries taking 0.1426 seconds, 176 records returned.
Powered by Minx 1.1.6c-pink.